5 relationship reboots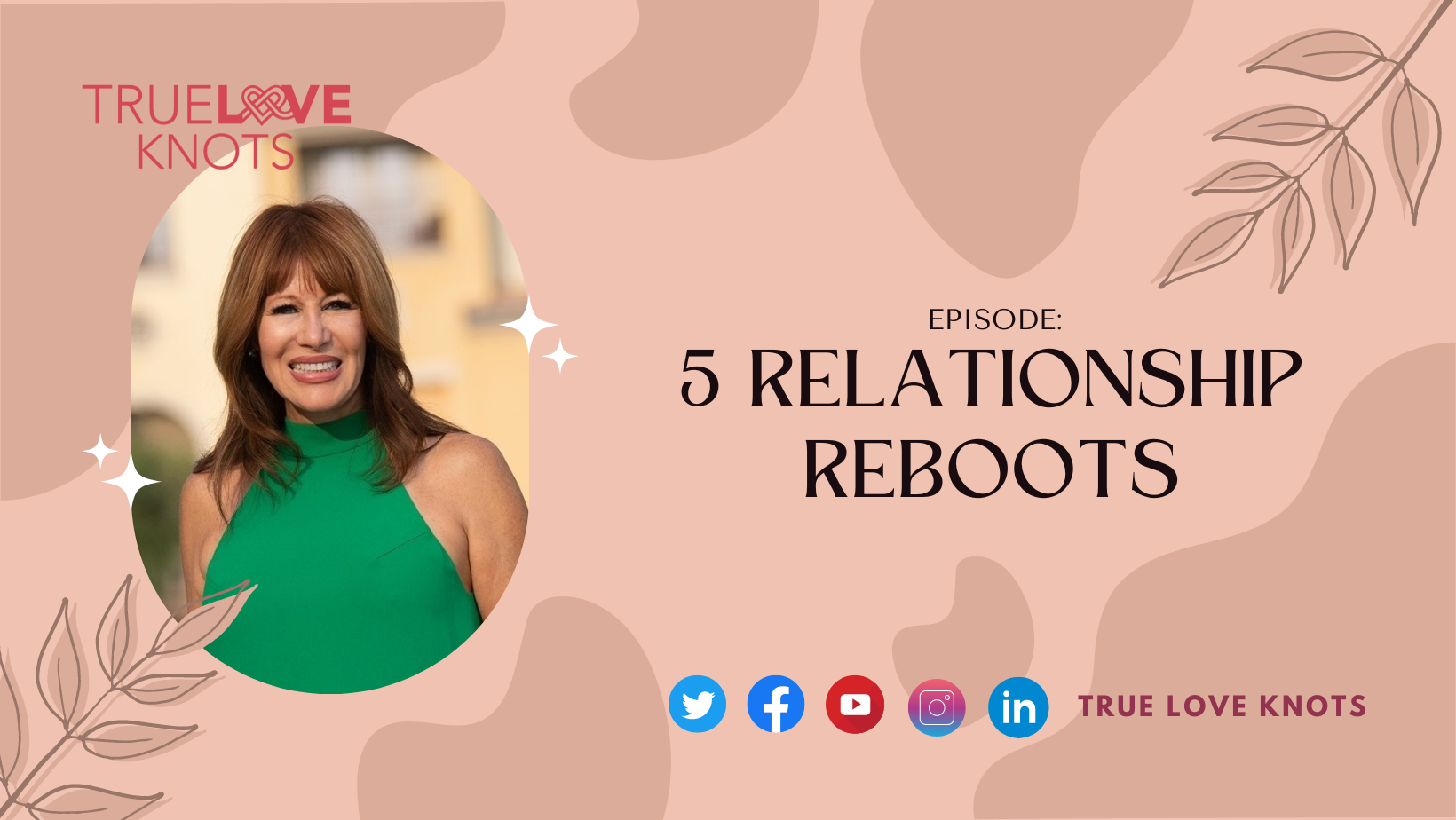 Welcome to True Love Knots with Maria Romano! Today, we are going to talk about how to reboot and refresh your relationship in going forward to 2022. You might be in a long term relationship and you kind of need a little refresher. So maybe you've been married for many years and it's getting a little boring. You're just thinking, "What can you do to reboot or enhance your relationship?" There are a couple of things that you can do and Maria is will share them with you today! 
Standout Quotes:
Make sure that you are always investing in your relationship. Make sure that you and your partner are having conversations. That's very important because that's the foundation. Relationships are not like a one size fits all. 
You are a team. There is a no "I" in "TEAM." What happens is that we do things separately. We might go out with our friends, we might play golf or poker and before you know it, we're like two ships passing in the night because you both have busy schedules. So do things together.
It's nice to have a partner. It's great to have a partner in your life. Somebody that you can reach out to somebody that you can share your hopes and your dreams. It's somebody that's there with you when you're going through challenges. Life is so much better when there are two of you.
Key Takeaways:
When we are in a relationship, we feel like we know it all. We feel that we know all about our partner. But it's important to invest in your relationship and have that communication in place. 
Talk about interaction. So find something that you both like to do because you're a team. Go back and reassess sometimes where one of you might need some additional help maybe in your work or around the house. That's a big part of team effort.  
Life is better when you have a partner that you can count on. It's great to have somebody that you can reach out whenever you need help or just somebody to share things. They will help you get through hardships and challenges in life. 
Episode Timeline:
[00:47] Today's Conversation
[01:55] Invest in your Relationship 
[03:33] Invest in yourself 
[05:55] Determine and Reassess what you both want in life and love
[07:48] Think about your goals that you want for yourself professionally 
[09:55] You and your partner are a Team 
[11:48] Review Everything about your Relationship 
Resources 
5 Languages of Love
Website: https://www.5lovelanguages.com/learn
Book: https://www.amazon.com/Love-Languages-Secret-that-Lasts/dp/080241270X
Use this link for a free profile starter kit: https://lp.constantcontactpages.com/su/9wI1bbx/datingprofileTLK