5 Ways to Make a Wedding Ceremony Special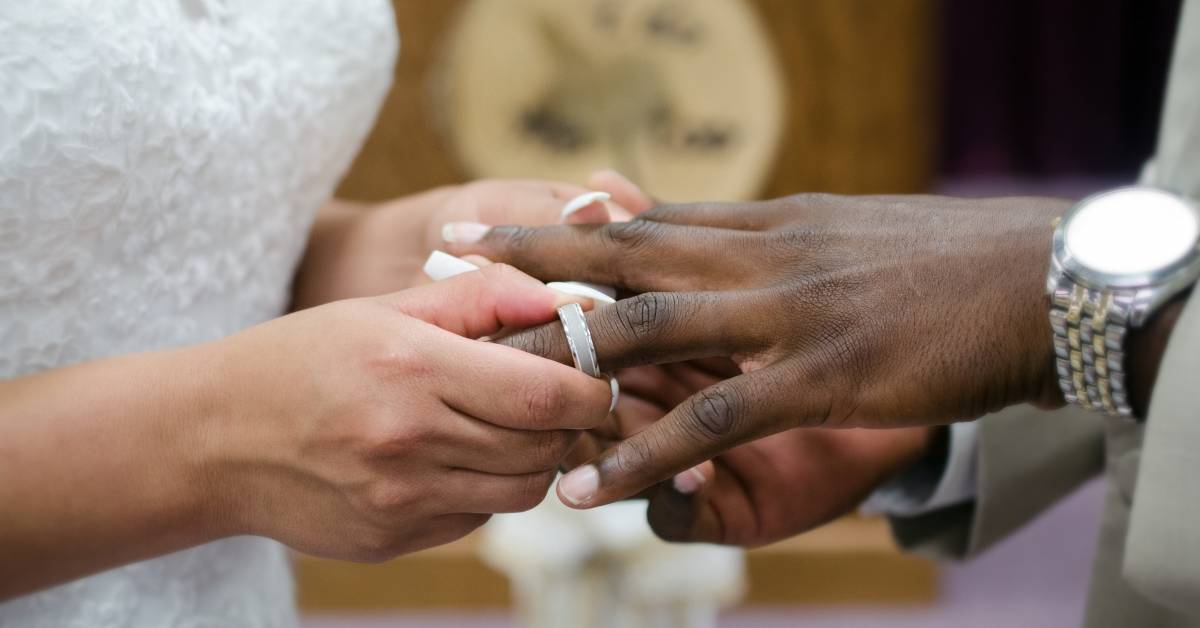 When you become an officiant, you have the opportunity to be an important part of a wedding. Some people make the decision to become an officiant as a one-time thing so they can marry friends or family members. However, if you are someone who wants to be an officiant as a part-time or a full-time career, it's vital that you know to make the wedding ceremony as special as possible for each couple that you marry. That's why, in today's post, we will provide you with a few tips that you should keep in mind so that each wedding you perform is unique.
There are a few different ways you can become a wedding officiant, but if you want to make sure you learn the steps and the process correctly, True Love Knots is here to help. Our founder, Maria Romero is an ordained minister, and she can walk you through the steps to become an amazing officiant. When Maria wanted to become an officiant, many of the necessary resources weren't available to her, which is why she worked hard to create her own officiant course that would provide you with all the tools you need to become a happy ending hero. Explore our website to learn more, and check out our wedding officiant course page to get started with your training! In the meantime, continue reading below for a few tips on how you can make each wedding ceremony special.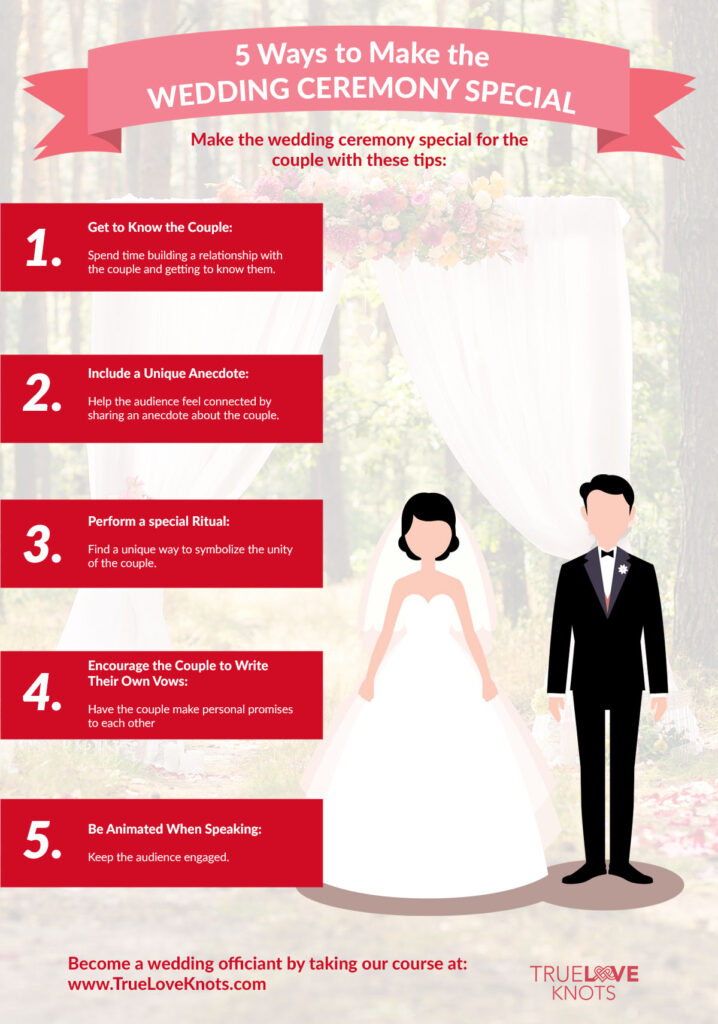 Get to Know the Couple
As a wedding officiant, one of the most important things you will need to do is get to know the couple. Getting to know the couple may not be required, but it can help you create a ceremony that is as special and unique as the couple themselves. Many ministers or officiants will only meet with the couple once in order to sort out all the details. However, if you really want to get to know the couple, you may want to meet with them a few times to get to know them on a deeper level. Once you've built a relationship with the couple, you'll be able to tailor the ceremony to their personalities, as opposed to simply reading scripture.
Include a Unique Anecdote
In a way, performing a wedding ceremony is a lot like putting on a show. You will need to keep the audience engaged while also bringing the couple together as one. A great way to do that is to include a unique anecdote about the couple in the ceremony. For example, you could tell a funny story from when the couple first met, or perhaps there's a tradition or an activity the couple do together for their anniversary. Not only will an anecdote keep the rest of the audience entertained, but it will also help them feel as though they know the couple better, too.
Perform a Special Ritual
In many wedding ceremonies, the couple will do something together to show the uniting of two families into one. An example of this might be if the couple takes two candles and uses them to light one larger candle. If the couple you're marrying wants to do some sort of ritual to symbolize their unity, consider performing something unique. You can encourage them to pour sand into a hurricane jar with rocks or other decorative items that they can later display in their home. Another option is to have one person spread peanut butter on a piece of bread while the other person spreads jelly on a piece of bread which they then bring together to make a PB&J. There are many different options, and you can easily find something that suits the couple.
Encourage the Couple to Write Their Own Vows
One of the best ways to make a wedding more personal to the couple is to have them write their own vows. If the couple is traditional, they can always have the majority of their vows read from scripture with a few of their own promises thrown in. Writing their own vows is a great way to make the ceremony unique to only them, as each couple is different, and they may want to promise certain things to each other that are more meaningful than traditional vows. As the officiant, you can also offer to help each person individually, especially if they are feeling stuck.
Be Animated When Speaking
All the hard work you do for the couple to ensure their ceremony is unique could all be a waste if you're not animated enough during the ceremony. The last thing people want is for you to drone on and on with a monotone. Instead, try to be animated with your words and emotional — after all, wedding ceremonies are allowed to be emotional. If you're worried about how you will talk during the ceremony, consider practicing what you will say. You can even record yourself speaking so you know what you will sound like.
Become An Officiant Today
If you are interested in playing a role in a couple's special day, True Love Knots is here to help. Our founder, Maria Romano, offers a wedding officiant course where you can learn everything you need to know about being a wedding officiant. Once you've completed our course, you'll be ordained, giving you the option to have a fulfilling career as a happy ending hero. Explore our website to learn more, and sign up for our unique course today!