Closing Remarks For A Wedding Ceremony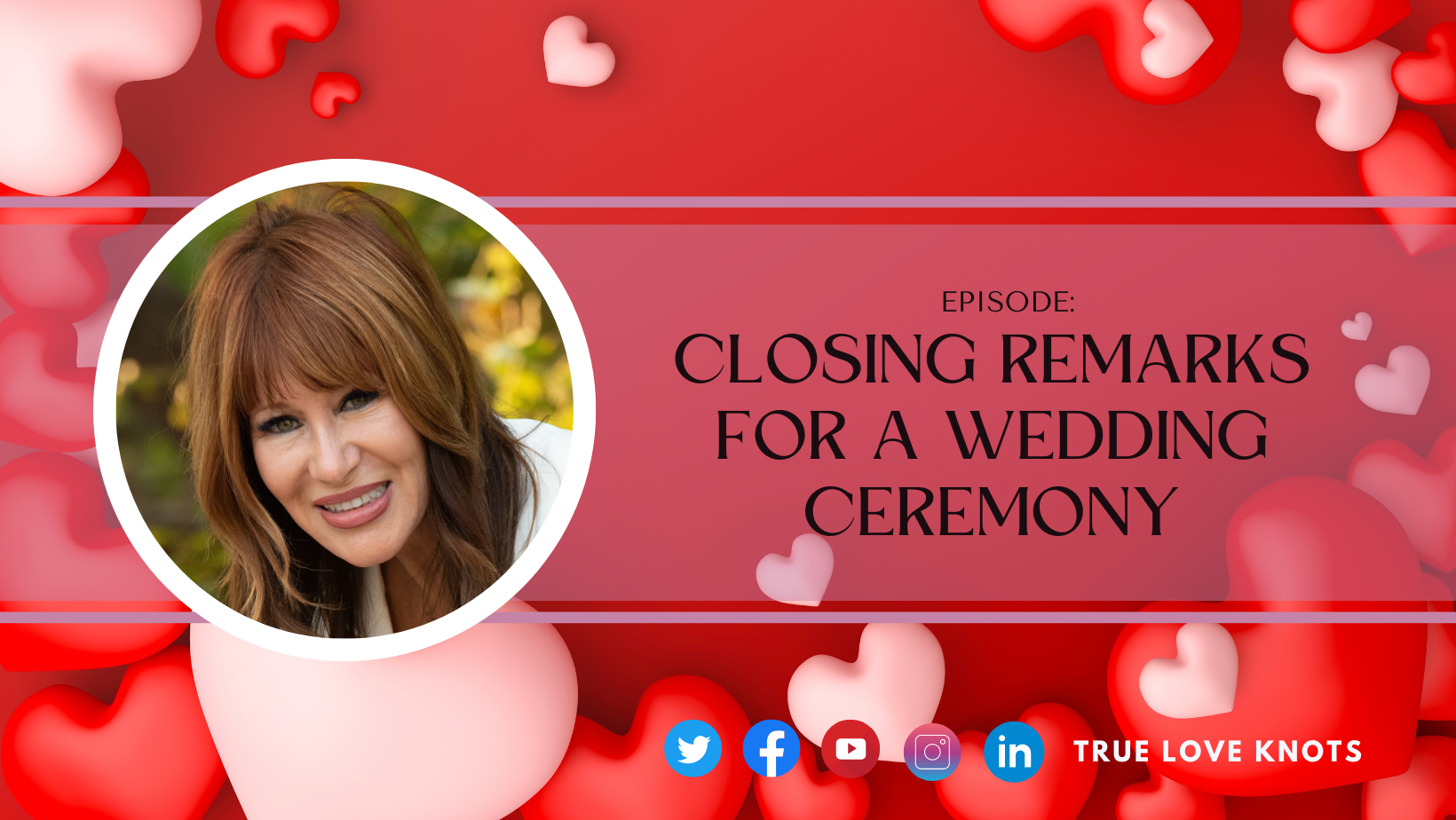 Above all, we want to keep this section brief and to the point. A drawn-out, detail-filled instructional at the end of the ceremony will drain the primed-and-ready-to-party atmosphere out of the room. Tune in with Maria Romano's new episode of True Love Knots, as she shares the things you should know when closing a wedding ceremony. 
Standout Quotes:
"You want to do that is you want to make sure that they understand this is not a quick peck. This is a moment. This is a photography moment."
"What the ceremony is going to run so smooth, and you're going to feel so good. And everybody's going to be so charged with love because you started the ceremony."
Key Takeaways:
The closing remarks are just as important as the opening remarks.
Remind the guests about the announcement they need to hear before pronouncing the couple.
Always acknowledge the presence of the guests, even if the guests attend virtually.
When you are getting ready to close, if there are any announcements, share them, then cue the couple up for that big moment when they kiss and it's not awkward.
Episode Timeline:
[00:10] What to say in closing a wedding.
[0:35] Maria's passion in sharing her experience
[1:03] Why closing remark is important?
[2:00] Best part of wedding
[3:01] Reminders before pronouncing the wedding 
[3:46] Things that you may do in Wedding
[4:46] Same Sex Couple Wedding procedure
[5:23] After the couple exit
Learn more about Maria Romano True Love Knots at:
Website: https://trueloveknots.com/ 
Facebook: https://www.facebook.com/mariatrueloveknots/
Instagram: https://www.instagram.com/truelove.knots/
Youtube: https://www.youtube.com/channel/UC4XENvaw7hp-A3RRAvsUJiw