Officiant Jitters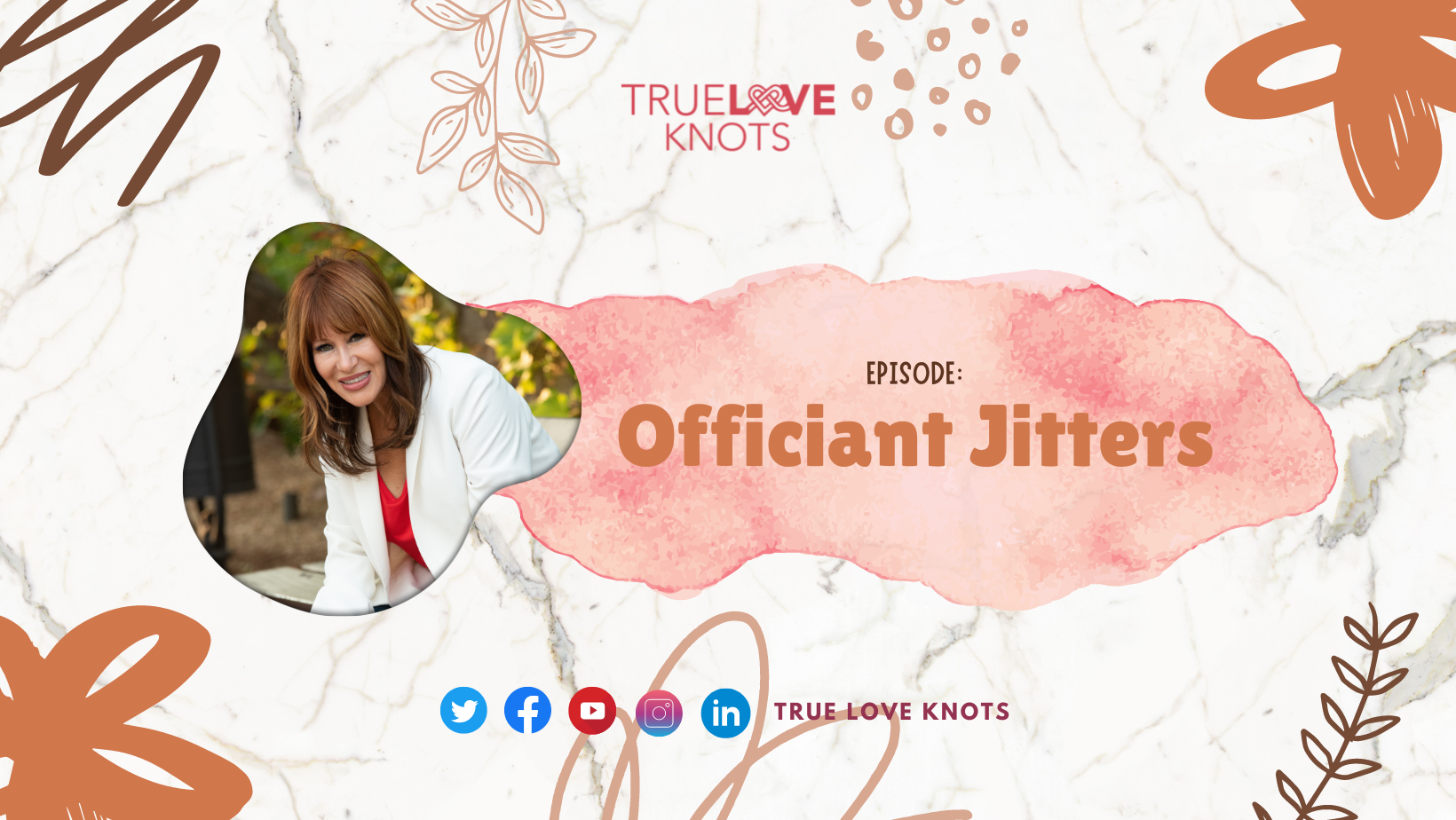 Being a new officiant has certain disadvantages. You'll have wedding jitters just like the couples because you'll be worried that you'll spoil the great moment. In this episode of True Love Knots, Maria Romano provides some helpful coping strategies for anxiety and stage frights that you may employ to ensure a smooth sailing wedding.
Standout Quotes:
"We all know that sometimes getting up and speaking in front of people can be quite scary. Public speaking, for most, is worse right than flying in an airplane. It's like the top five." [Maria]
"Look over your script and make sure you have the couple's names properly inserted, especially if you're using the same template, but you're      changing out the names, make sure you change out the names everywhere." [Maria]
"If you have a scent that you like, as one of my favorite scents is lavender. And I have a little vial that you roll on the lavender. And I will put it in the palms of my hands. And I'll sniff it. And that will usually calm the whole sensory system, my nervous system." [Maria]
"What you need to do is just make sure that you provide the couple with the ultimate experience." [Maria]
Key Takeaways:
Before you get up and speak, pull out your iPhone, record yourself, prop it up, videotape yourself, and then listen back. Make sure you read and rehearse whatever script you're using multiple times. It will give you a better understanding of how you sound when modulating.
Take a long, deep breath. Take a deep breath, not only a deep breath into your chest. Inhale down to your belly button and hold for four seconds before exhaling through your mouth. Do that five times, then walk away and do it again. That will make a world of difference.
You can do some warm-up exercises for your voice to ensure that it is well-rounded and has a lot of texture. You want to make sure you're not monotone, that you're not just reading; you want to provide consistency and volume; Warm-up with some exercises. Look up some vocal warm-up exercises on the internet. Many singers do the same thing. It's better to do this first thing in the morning.
Episode Timeline:
[00:03] Meet today's host "Maria Romano," from True Love Knots
[01:45] Practice Several Times
[03:06] Breathing Exercise
[04:14] Warmup Exercises
Learn more about Maria Romano and the True Love Knots at:
LinkedIn: https://www.linkedin.com/in/maria-romano-tlk/
Website: https://trueloveknots.com/