Questions to Ask the Engaged Couple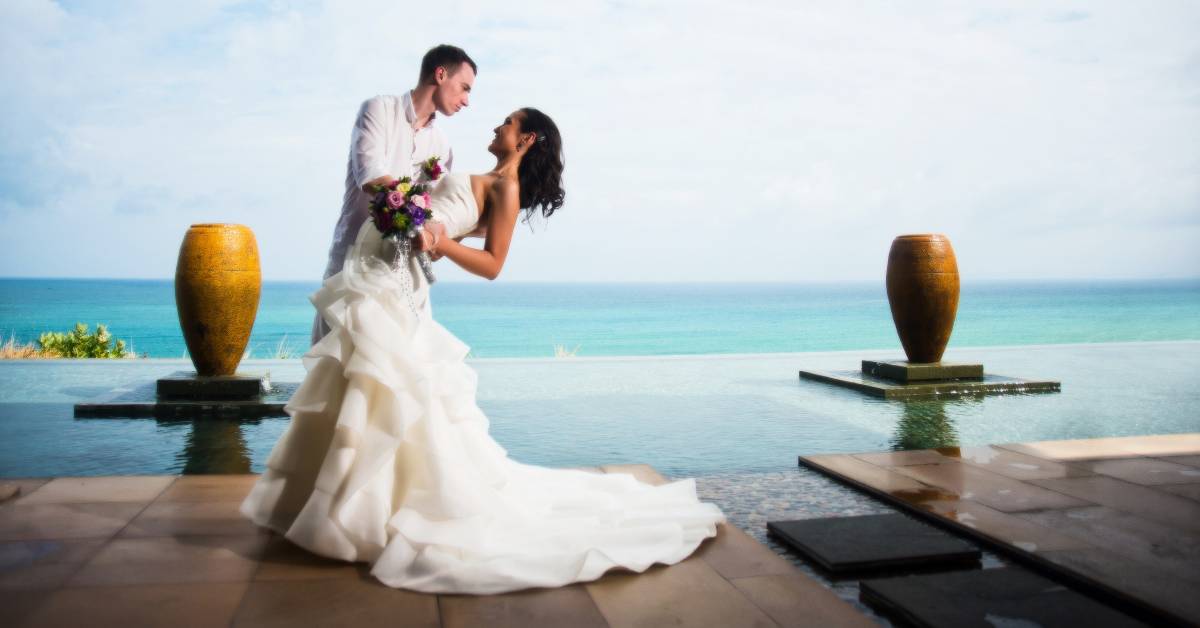 Officiating a wedding is more than simply reading lines off a piece of paper. The ceremony is what binds one person to another and makes them a family. For this reason, you not only want to make sure it's special, but you also want to make sure that it has meaning for the happy couple. If you are considering becoming a wedding officiant, it's vital that you spend some time getting to know the couple so you can tailor the ceremony to their personalities. In today's post, we will provide you with five questions that you can ask to give you a better idea of what the couple is looking for, as well as their relationship as a whole.
You can easily become an ordained minister online when you're in a pinch, but if you're interested in being a part of even more couples' happily ever afters, or you want to make officiating weddings your part- or full-time job, True Love Knots is here to help! We offer an officiant course where you can learn all the tricks of the trade from our founder Maria Romano, as well as any other necessary information about becoming ordained. Explore our website to learn more, and sign up for our wedding officiant course today!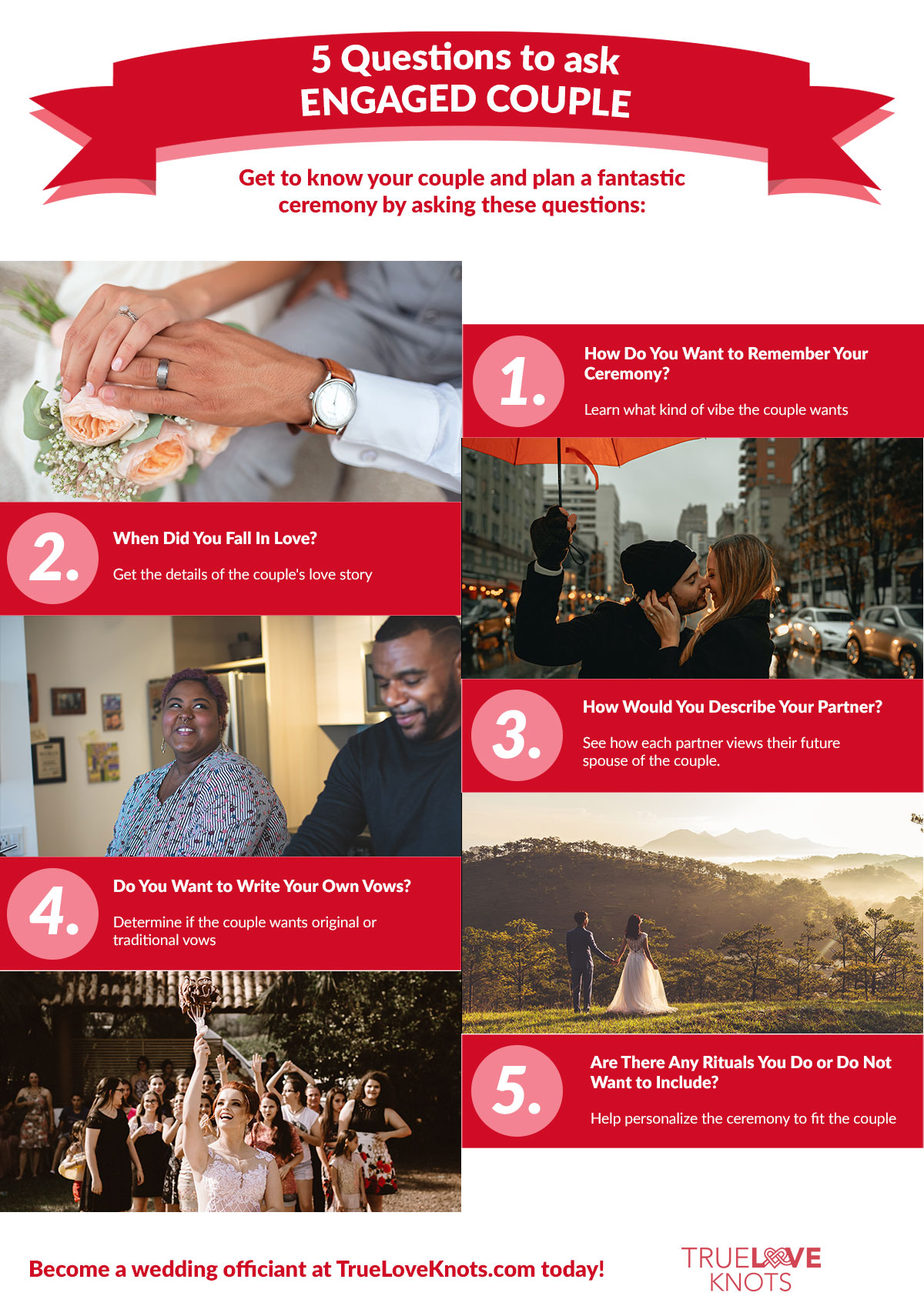 How Do You Want to Remember Your Ceremony?
There are a lot of different elements that go into a wedding ceremony, and the way you present each element can help set the tone for the entire ceremony. As you get to know the couple, it's a good idea to ask them how they want to remember the ceremony, as not all couples may have the same vision in mind. For example, there may be some couples who want to remember their ceremony as being meaningful and beautiful, while others may be okay with you cracking a few jokes to ensure that everyone is having a good time.
When Did You Fall In Love?
A couple's love story says a lot about the couple as a whole, and it's a good idea to ask about their story and how they fell in love so you can mention different aspects during the ceremony. While you want to learn about the complete love story from start to finish, we recommend asking specifically when the couple fell in love. Asking how they met may not be as good of a story as everything that went into the relationship to make the couple's love blossom and grow.
How Would You Describe Your Partner?
When asked to describe yourself, you may respond with generic, run-of-the-mill answers, which is why you should always ask one partner to describe the other. Asking one partner how they would describe the other can give you an insight into what they love most about their future spouse, and it can give you some material to work into the ceremony, as well as help you learn more about the couple and their relationship.
Do You Want to Write Your Own Vows?
In the past, it was common for couples to recite traditional vows during the ceremony. However, it has become more popular in recent years for the couple to write their own vows and recite those instead. As the officiant, it's a good idea to ask the couple ahead of time whether they would like to recite traditional vows or write their own. If they decide they would like to write their own, you can also offer to help each partner if they are worried they will get stuck or have trouble thinking of the right words to say.
Are There Any Rituals You Do or Do Not Want to Include?
It's no secret that weddings are filled with unique traditions, and while the traditions may be similar from wedding to wedding, some couples like to put their own personal spin on it. As you're interviewing the couple, ask them if there are any rituals they definitely want to include in their ceremony, as well as if there are any rituals they would like to leave out. This can help you determine the layout of the ceremony, as well as help you personalize the included rituals to fit the couple.
Become Ordained Today!
A wedding officiant plays an important role in joining two people together in marriage. Some couples decide to make their wedding more special by asking a friend or a family member to officiate their wedding, while others simply look for someone kind and compassionate. If you are interested in becoming a wedding officiant either for a friend or family member's wedding, or you are looking to be a wedding officiant as your part- or full-time career, True Love Knots is here to help! In addition to helping couples find their perfect match, we also offer a wedding officiant course where we will teach you everything you need to know about being an officiant. Ready to get started? Explore our website to learn more, and reach out to True Love Knots to enroll in our course today!