Unlocking Your True Potential: Embracing Talents and Sharing Testimonies for a Better World with Jestina Weems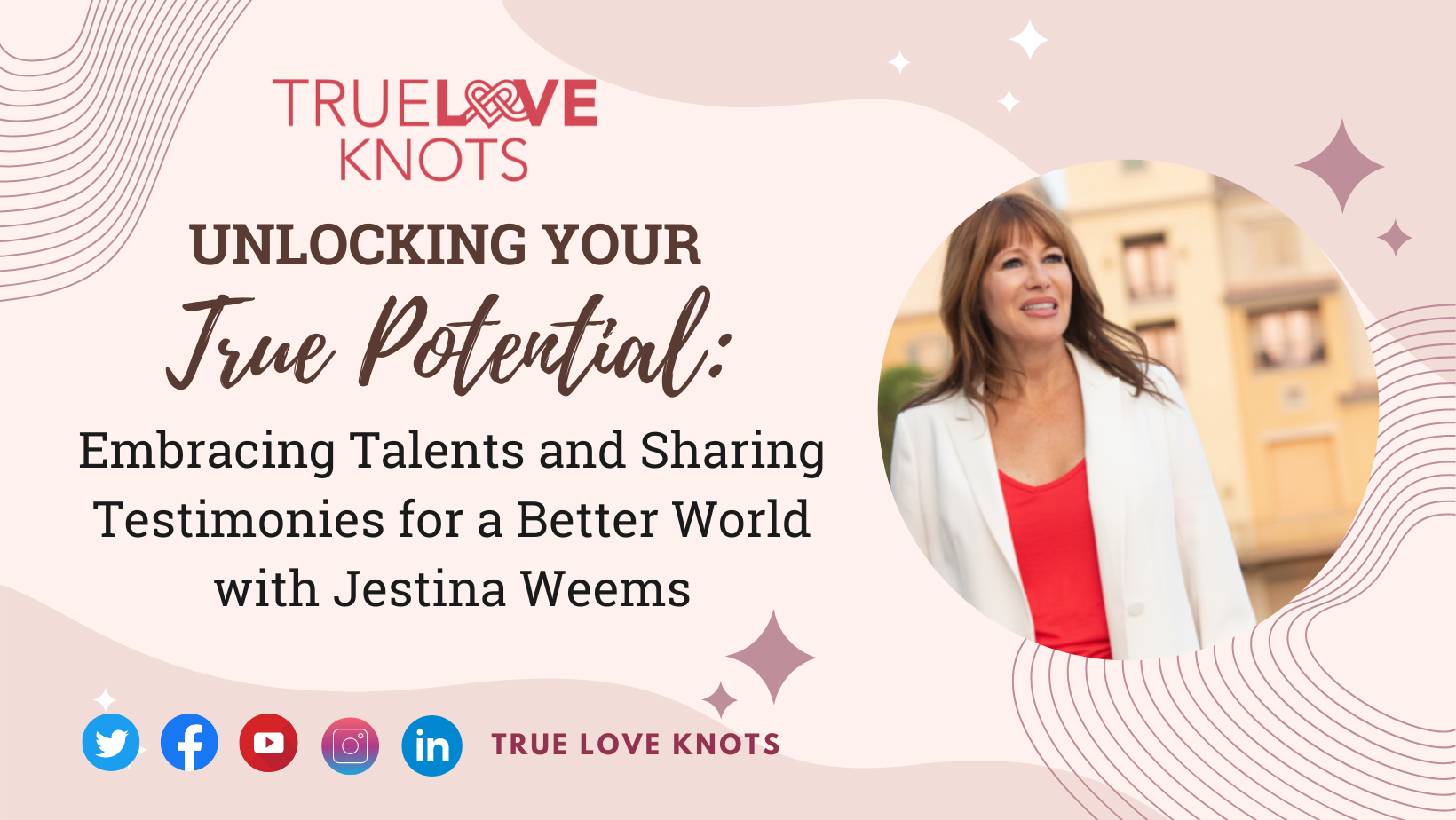 In this episode of the True Love Knots Podcast, our guest is Jestina Weems. She is the author of the beloved children's book "My Goal and Ralph" and the founder of Victims to Victory, a nonprofit that utilizes art to aid in the healing of children and young adults who have experienced trauma. Additionally, she founded the "O.MA Black National Committee," which provides support and grant opportunities for people of color in business. Jestina is the driving force behind Mob Styles, a professional flash mob company. Furthermore, she co-founded "Nana's," a catering service specializing in cannabis-infused dishes. She has empowered individuals through her program called "Me Sexual," which supports survivors of sexual abuse, and she is a co-producer of the musical "We Are the Dream." Today, Jestina shares her faith, belief in the power of manifestation, and the importance of embracing one's talents and sharing personal testimony for the greater good.
Standout Quotes:
"Trauma can be transformed into stepping stones for success." [Jestina]
"Expressing ourselves through art can be a powerful tool for healing and growth." [Jestina]
"Tapping into our talents allows us to push through the pain and present our best selves." [Jestina]
"Find resources or tools that actually strengthen your weaknesses and give you the courage and the ability to put yourself out there." [Jestina]
"The best thing a person can have when they put something on is confidence." [Jestina]
"Everything's a process when you're creative, and you really want to make things big." [Jestina]
"Share your testimony because more lives would be truly changed if more people shared their testimony." [Jestina]
Key Takeaways:
Embrace your weaknesses and seek tools or resources to overcome them. They can help you present your best self.
Recognize and believe in your innate talents. You have what it takes to succeed.
Confidence is key. Regardless of your appearance or size, confidence can transform how you present yourself and make a difference in how others perceive you.
Don't limit yourself to familiar surroundings. Step outside your comfort zone and seek connections with like-minded individuals who can support your growth.
Make time for the things you love and remind yourself of your greatness. Don't lose sight of your passions amidst the routines of life.
Dream big and aim for greatness in all your endeavors. Set your sights high and believe in your ability to achieve remarkable things.
Never let your talents go to waste. Find ways to utilize and share them, even if it means adapting and exploring new opportunities.
Have faith in a higher power, trusting that difficult situations can be overcome with divine intervention and guidance.
Episode Timeline:
[01:52] Introducing Jestina Weems
[02:57] Why did Jestina Share Her Testimony?
[06:22] What's the Importance of Being Yourself?
[10:47] How was Jestina Inspired to be an actress?
[19:05] How Did Jestina meet the man who changed her life?
[20:43] How to Pick the Right Speakers?
[26:51] What is the importance of Knowing Your Purpose?
[29:20] Where to Reach Jestina Weems?
Learn more about Jestina Weems at:
Website: https://about.me/Jestina