What to Look for in a Wedding Minister When You're On a Budget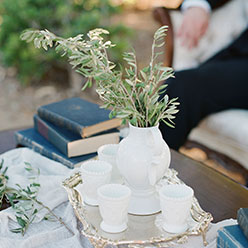 Since the ceremony is an important part of the wedding, your choice of a wedding minister is an important one. While the right minister can enrich your wedding, a minister that obviously doesn't know what you want is sure to make your big day a miserable one. Of course, when you're on a budget, you also have to think about the financial aspect of choosing your minister. Before you choose the minister who will stand up with you on your wedding day, here are a few things to consider.
Find Out if the Minister Charges a Fee
One of the first things to find out is whether the minister charges a fee. If you're part of the minister's congregation, your minister may not charge a fee, which offers couples an excellent way to save money. However, it's still appropriate to give your minister a monetary gift to show your appreciation.
Many ministers today do charge fees, particularly if you are not a member of their congregation. A minister's fees range between $100 and $400. According to The Bridal Association of America, $263 is the average cost of hiring a priest or minister to officiate at a wedding.
Ask About Deposits
When looking for a wedding minister, ask the minister if a deposit is required. While many ministers simply require payment after the wedding, some may ask for a deposit to reserve their time for your wedding. If a deposit is required, ask about the amount of the deposit and if that deposit is refundable. This is also a great time to ask the minister if a backup officiant is available if the minister is not available due to an emergency.
What's Included in the Minister's Services?
If you're paying a set fee for the minister's service, find out what is included with that fee. The minister's services should include an initial get-to-know-you meeting and several planning sessions for the wedding. Your minister should also have the witnesses sign your marriage license, perform the ceremony, mail in your marriage license, and then mail you a copy.
Additional Fees to Consider
In some cases, a minister may charge you some additional fees, and when you're on a budget, you'll want to find out about these fees in advance. Ask the minister if there's an extra charge for attending the wedding rehearsal. Some ministers will also charge a mileage fee that ranges between 30 and 50 cents per mile to travel to the location of your wedding. Extra fees can quickly add up, so keep these extra fees in mind as you choose your wedding minister.
Will the Minister Only Marry You in a House of Worship?
Some ministers will only marry couples in a house of worship, and you may be required to pay a fee to have your wedding in the house of worship. If the minister will only marry you in his house of worship, ask about the fees for using the venue. Some houses of worship charge set fees for weddings, while others will accept the fees in the form of a donation, which can range between $50 and $1,000. If you're a member of the minister's congregation, the fee for using the venue may be waved, saving you a significant amount of money.
Does the Minister Require Premarital Counseling?
Ask the minister if premarital counseling is required before he marries you. If premarital counseling is required, will you need to pay an additional fee? Find out how many sessions are required and if they have to be spread out over several weeks or months.
Is the Minister Open to Ceremony Customization?
Before making your final decision, find out if the minister is open to ceremony customization. Some ministers will only perform a traditional order of service that is specific to their faith. You may want a customized ceremony that includes your own vows, special readings from friends or family members, and other unique aspects. If you want to customize your ceremony, make sure the minister is open to this option before putting down a deposit.