What You Need To Know Before You Officiate Your First Ceremony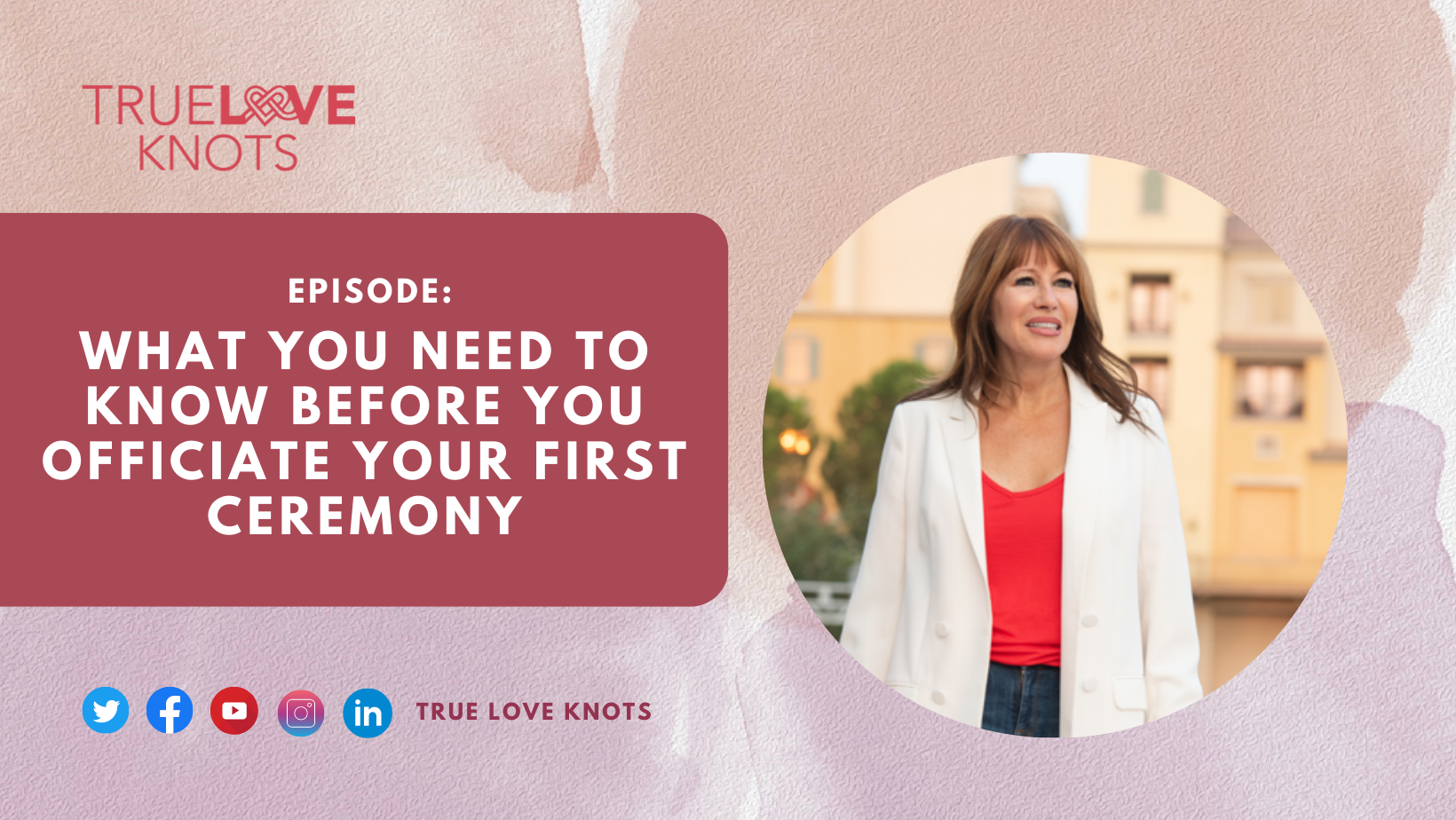 Welcome to this episode of True Love Knots with Maria Romano! We will talk about the things that you need to know before you officiate your first wedding ceremony. These tips can be applied to new and experienced wedding officiants. Stay tuned to have a better understanding of how to perform a wedding ceremony.
Tip #1
[1:22] The first thing you need to do is to make sure you're properly licensed. That's important because you are performing a wedding for someone expecting you to perform the legal wedding ceremony. So you need to make sure you have the proper licensing.
[1:57] Go to the city, the county, or the state and find out the requirements to get your license. It may take a little bit of time, so don't wait till the last minute because then, you can't perform the wedding ceremonu.
[2:17] If you're performing a wedding ceremony outside of the state, then you need to check the licensing requirements because you need to have the proper licensing, depending upon the venue of where you're performing the wedding ceremony.
Tip #2
[2:42] You need to know the outline of the ceremony that you are going to officiate.
[3:37] In some cases, a couple might want you to add an enhancement. So go to Maria's Website and check out the valuable information she has for wedding officiants because that is something that you need to know beforehand. And it just depends upon what the couple is asking you to do during the ceremony.
Tip #3
[4:31] If you are performing a wedding ceremony for somebody for the first time, maybe you're a new officiant, and you're not too sure how to pronounce the person's name, or both parties, make sure you write it down phonetically.
[5:18] Use a binder and put your ceremony script in there. Don't use a tablet or phone because it does not look professional, and it also doesn't sometimes work. So make sure you have a nice binder. And if you're not familiar with the couple's names, spell it phonetically.
Tip #4
[6:14] Know who is coming before the bride because you need to know when to have everyone stand.
[7:30] Even if you have to put that in your ceremony script after the bride is presented, maybe they are being escorted down the outlets because it could be a non-traditional ceremony. Afterward, that the brides escorted, that is the moment that you tell everyone to sit.
Tip #5
[7:59] Find out the actual licensing and requirements for a wedding officiant to pronounce somebody depending upon the state you live in.
Tip #6
[9:05] Make sure that you have the paperwork, which is the license. Usually, the bride and groom will provide you with the license if you need to get that the day of the ceremony. Or maybe beforehand, but it is not recommended to get the license and pick it up from the couple beforehand because you don't want to lose it.
[9:28] If the couple forgets their marriage license, then it's not a legal ceremony. So after the wedding ceremony or before you walk in, always ask to see the marriage license and make sure that it's still valid because sometimes, there's an expiration date. You're going to fill out the paperwork and have the witnesses sign. You will provide the couple with keeps a copy, and you will take your portion.
Tip #6
[10:10] The very last thing is you need to practice. How you do anything is how you do everything in life. And a wedding is a couple's special day. There are no do-overs. You need to take a script, and you need to practice.
You can also follow Maria on her socials:
True Love Knots https://trueloveknots.com/wedding-services/